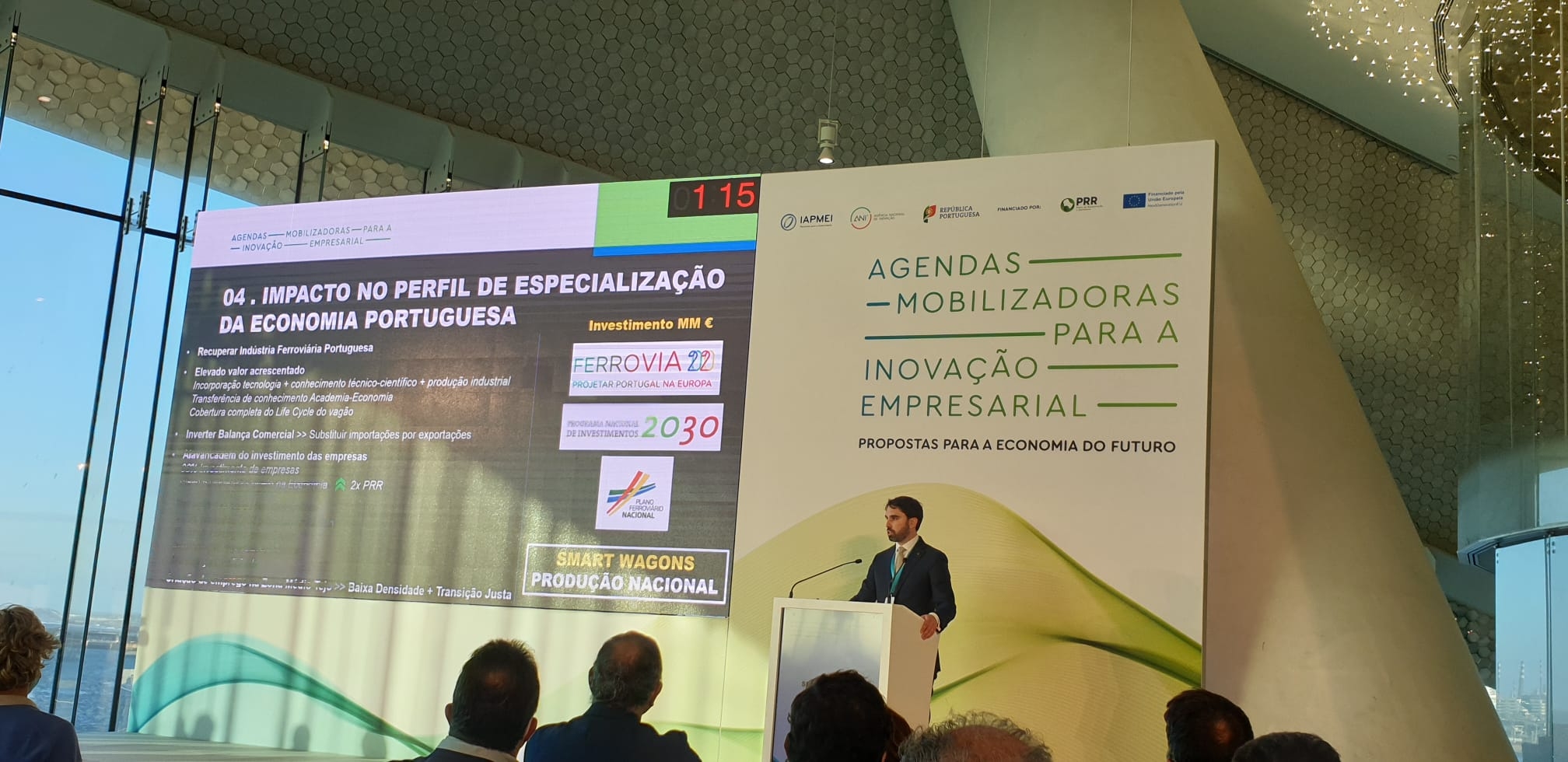 MEDWAY leads a consortium that will invest 82 million euros in the development of production capacity in Portugal. the Investment will allow the creation of 65 direct jobs.
MEDWAY, through a consortium made up of 10 entities, will develop a strategy to recover the railway wagon manufacturing industry in Portugal, with the aim of returning production capacity to the country, with the creation of intelligent freight wagons – "smart wagons" ".
This consortium comprises five companies (MEDWAY Maintenance & Repair, MEDWAY Terminals, MEDWAY Rail Freight Operator, Nomad Tech and EVOLEO Technologies), four ENESIIs (Non-Business Entities of the Research and Innovation System – Instituto Superior Técnico, Faculty of Engineering of the University do Porto, INEGI - Institute of Science and Innovation in Mechanical Engineering and Industrial Engineering and ISQ) and the cluster for competitiveness, the Portuguese Railway Platform, capable of producing a product with high added value, with the incorporation of technology, technical knowledge. scientific and industrial production, covering the entire life cycle of the wagon.
Bruno Silva, General Director of MEDWAY highlights: "This consortium, of which MEDWAY is a part, intends to transform the Portuguese profile, enhancing the productive capacity of freight wagons and sensing systems, as well as the implementation of predictive maintenance methodologies, reducing waste and increasing the availability of this asset. In addition to the impact on the specialization profile of the Portuguese economy, this investment will also allow the recovery of Portugal's railway industry and invert the country's trade balance, replacing imports with exports."
The development of "smart wagons" will also have a significant impact on reducing carbon emissions, reducing CO2 emissions during the production process by 55%, since, in addition to more efficient maintenance, production will use renewable energy and will incorporate recycled materials.
Paulo Duarte, Executive Director of the Portuguese Railway Platform says: "It is an undeniable opportunity to demonstrate our industrial production capacity, combined with innovative and high added value technologies that differentiate in the railway market, showing the results that it is possible to achieve, in a work of team and national enhancement, from the Railroad Cluster."
This investment will allow the creation of 65 direct jobs in the middle Tagus region, overcoming the recent challenge of generating new jobs in compensation for the closure of the Pego Thermoelectric Power Station.